Fahrenheit 11/9
R
for language and some disturbing material/images


Michael Moore

-

2 hr. 5 mins.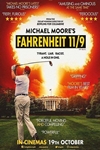 Michael Moore's "Fahrenheit 11/9" is a provocative and comedic look at the times in which we live. It will explore the two most important questions of the Trump Era: How the f**k did we get here, and how the f**k do we get out? It's the film to see before it's too late.
Official Site
Trailer
---
The House With A Clock In Its Walls
PG
for thematic elements including sorcery, some action, scary images, rude humor and language


Jack Black, Cate Blanchett

-

1 hr. 40 mins.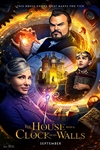 In the tradition of Amblin classics where fantastical events occur in the most unexpected places, Jack Black and two-time Academy Award® winner Cate Blanchett star in THE HOUSE WITH A CLOCK IN ITS WALLS, from Amblin Entertainment. The magical adventure tells the spine-tingling tale of 10-year-old Lewis (Owen Vaccaro) who goes to live with his uncle in a creaky old house with a mysterious tick-tocking heart. But his new town's sleepy façade jolts to life with a secret world of warlocks and witches when Lewis accidentally awakens the dead.
Official Site
Trailer
---
Life Itself
R
for language including sexual references, some violent images and brief drug use


Oscar Isaac, Olivia Wilde

-

1 hr. 57 mins.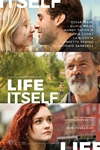 As a young New York couple goes from college romance to marriage and the birth of their first child, the unexpected twists of their journey create reverberations that echo over continents and through lifetimes in Life Itself. Director and writer Dan Fogelman ("This Is Us") examines the perils and rewards of everyday life in a multigenerational saga featuring an international ensemble including Oscar Isaac, Olivia Wilde, Antonio Banderas, Annette Bening, Olivia Cooke, Sergio Peris- Mencheta, Laia Costa, Alex Monner and Mandy Patinkin. Set in New York City and Carmona, Spain, Life Itself celebrates the human condition and all of its complications with humor, poignancy and love.
Official Site
Trailer
---
The Predator
R
for strong bloody violence, language throughout, and crude sexual references


Boyd Holbrook, Trevante Rhodes

-

1 hr. 41 mins.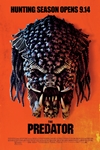 From the outer reaches of space to the small-town streets of suburbia, the hunt comes home in Shane Black's explosive reinvention of the Predator series. Now, the universe's most lethal hunters are stronger, smarter and deadlier than ever before, having genetically upgraded themselves with DNA from other species. When a young boy accidentally triggers their return to Earth, only a ragtag crew of ex-soldiers and a disgruntled science teacher can prevent the end of the human race.
Official Site
Trailer
---
A Simple Favor
R
for sexual content and language throughout, some graphic nude images, drug use and violence


Anna Kendrick, Blake Lively

-

1 hr. 57 mins.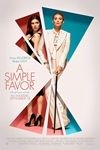 A SIMPLE FAVOR, directed by Paul Feig, centers around Stephanie (Anna Kendrick), a mommy vlogger who seeks to uncover the truth behind her best friend Emily's (Blake Lively) sudden disappearance from their small town. Stephanie is joined by Emily's husband Sean (Henry Golding) in this stylish thriller filled with twists and betrayals, secrets and revelations, love and loyalty, murder and revenge.
Official Site
Trailer
---
Unbroken: Path to Redemption
PG-13
for thematic content and related disturbing images


Samuel Hunt, Merritt Patterson

-

1 hr. 38 mins.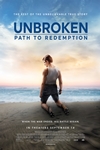 Based on Laura Hillenbrand's bestselling book, UNBROKEN: PATH TO REDEMPTION begins where the hit movie Unbrokenconcludes, sharing the next amazing chapter of the unbelievable true story of Olympian and World War II hero Louis Zamperini.
Haunted by nightmares of his torment, Louie sees himself as anything but a hero. Then, he meets Cynthia, a young woman who captures his eye-and his heart.
Louie's wrathful quest for revenge drives him deeper into despair, putting the couple on the brink of divorce. Until Cynthia experiences Billy Graham's 1949 Los Angeles Crusade where she finds faith in God and a renewed commitment to her marriage and her husband. Now, her most fervent prayer is for God to help Louie find the peace and forgiveness he so desperately needs.
UNBROKEN: PATH TO REDEMPTION brings to life the rest of this powerful real-life story of forgiveness, redemption, and amazing grace.
Official Site
Trailer
---
White Boy Rick
R
for language throughout, drug content, violence, some sexual references, and brief nudity


Matthew McConaughey, Richie Merritt

-

1 hr. 51 mins.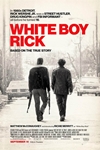 Set in 1980s Detroit at the height of the crack epidemic and the War on Drugs, WHITE BOY RICK is based on the moving true story of a blue-collar father and his teenage son, Rick Wershe, who became an undercover police informant and later a drug dealer, before he was abandoned by his handlers and sentenced to life in prison.
Official Site
Trailer
---
God Bless the Broken Road
PG
for thematic elements and some combat action


Lindsay Pulsipher, Jordin Sparks

-

1 hr. 51 mins.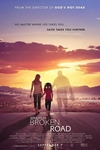 Amber's dream of an ideal life with her perfect family shatters when she loses her husband to the war in Afghanistan. Two years later, she finds herself in a struggle to save her home while providing for her nine-year-old daughter, Bree. When up-and-coming racecar driver, Cody Jackson, rolls into town, Amber and Bree become wrapped up in his pedal to the metal way of life. Amber struggles with Cody's attention and withdraws to protect herself and Bree from the dangers of becoming too close to someone who lives life on the edge every day. With her faith hanging in the balance, Amber is forced to decide between the broken road she knows so well, or trusting in a new path that God has provided.
Official Site
Trailer
---
The Nun
R
for terror, violence, and disturbing/bloody images


Taissa Farmiga, Bonnie Aarons

-

1 hr. 39 mins.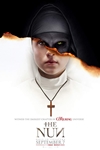 When a young nun at a cloistered abbey in Romania takes her own life, a priest with a haunted past and a novitiate on the threshold of her final vows are sent by the Vatican to investigate. Together they uncover the order's unholy secret. Risking not only their lives but their faith and their very souls, they confront a malevolent force in the form of the same demonic nun that first terrorized audiences in "The Conjuring 2," as the abbey becomes a horrific battleground between the living and the damned.
Official Site
Trailer
---
Peppermint
R
for strong violence and language throughout


Jennifer Garner, Richard Cabral

-

1 hr. 35 mins.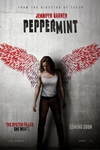 Peppermint is an action thriller which tells the story of young mother Riley North (Garner) who awakens from a coma after her husband and daughter are killed in a brutal attack on the family. When the system frustratingly shields the murderers from justice, Riley sets out to transform herself from citizen to urban guerilla. Channeling her frustration into personal motivation, she spends years in hiding honing her mind, body and spirit to become an unstoppable force eluding the underworld, the LAPD and the FBI- as she methodically delivers her personal brand of justice.
Official Site
Trailer
---
The Happytime Murders
R
for strong crude and sexual content and language throughout, and some drug material


Melissa McCarthy, Todd Berger

-

1 hr. 31 mins.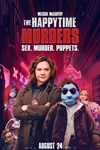 No Sesame. All Street. THE HAPPYTIME MURDERS is a filthy comedy set in the underbelly of Los Angeles where puppets and humans coexist. Two clashing detectives with a shared secret, one human (Melissa McCarthy) and one puppet, are forced to work together again to solve the brutal murders of the former cast of a beloved classic puppet television show.
Official Site
Trailer
---
Searching
PG-13
for thematic content, some drug and sexual references, and for language


John Cho, Debra Messing

-

1 hr. 42 mins.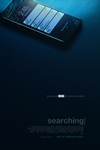 After David Kim (John Cho)'s 16-year-old daughter goes missing, a local investigation is opened and a detective is assigned to the case. But 37 hours later and without a single lead, David decides to search the one place no one has looked yet, where all secrets are kept today: his daughter's laptop. In a hyper-modern thriller told via the technology devices we use every day to communicate, David must trace his daughter's digital footprints before she disappears forever.
Official Site
Trailer
---
Alpha
PG-13
for some intense peril


Kodi Smit-McPhee, Leonor Varela

-

1 hr. 37 mins.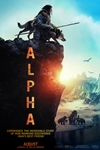 An epic adventure set in the last Ice Age. Europe, 20,000 years ago. While on his first hunt with his tribe's most elite group, a young man is injured and left for dead. Awakening to find himself broken and alone -- he must learn to survive and navigate the harsh and unforgiving wilderness. Reluctantly taming a lone wolf abandoned by its pack, the pair learn to rely on each other and become unlikely allies, enduring countless dangers and overwhelming odds in order to find their way home before the deadly winter arrives.
Official Site
Trailer
---
Mile 22
R
strong violence and language throughout


Mark Wahlberg, Lauren Cohan

-

1 hr. 34 mins.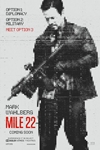 In a visceral modern thriller from the director of Lone Survivor, Mark Wahlberg stars as James Silva, an operative of the CIA's most highly-prized and least-understood unit. Aided by a top-secret tactical command team, Silva must retrieve and transport an asset who holds life-threatening information to Mile 22 for extraction before the enemy closes in.
Official Site
Trailer
---
The Meg
PG-13
for action/peril, bloody images and some language


Jason Statham, Li Bingbing

-

1 hr. 53 mins.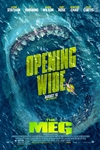 A deep-sea submersible part of an international undersea observation program has been attacked by a massive creature, previously thought to be extinct, and now lies disabled at the bottom of the deepest trench in the Pacific with its crew trapped inside. With time running out, expert deep sea rescue diver Jonas Taylor is recruited by a visionary Chinese oceanographer, against the wishes of his daughter Suyin, to save the crew and the ocean itself from this unstoppable threat: a pre-historic 75-foot-long shark known as the Megalodon. What no one could have imagined is that, years before, Taylor had encountered this same terrifying creature. Now, teamed with Suyin, he must confront his fears and risk his own life to save everyone trapped below bringing him face to face once more with the greatest and largest predator of all time.
Official Site
Trailer
---
Slender Man
PG-13
for disturbing images sequences of terror, thematic elements and language including some crude sexual references


Julia Goldani Telles, Joey King

-

1 hr. 33 mins.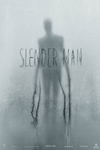 In a small town in Massachusetts, four high school girls perform a ritual in an attempt to debunk the lore of SLENDER MAN. When one of the girls goes mysteriously missing, they begin to suspect that she is, in fact, his latest victim.
Official Site
Trailer
---
Teen Titans GO! to the Movies
PG
for action and rude humor


Greg Cipes, Scott Menville

-

1 hr. 28 mins.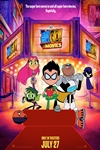 When the Teen Titans go to the big screen, they go big! "Teen Titans GO! to the Movies" finds our egocentric, wildly satirical Super Heroes in their first feature film extravaganza - a fresh, gleefully clever, kid-appropriately crass and tongue-in-cheek play on the superhero genre, complete with musical numbers. It seems to the Teens that all the major superheroes out there are starring in their own movies everyone but the Teen Titans, that is! But de facto leader Robin is determined to remedy the situation, and be seen as a star instead of a sidekick. If only they could get the hottest Hollywood film director to notice them. With a few madcap ideas and a song in their heart, the Teen Titans head to Tinsel Town, certain to pull off their dream. But when the group is radically misdirected by a seriously super villain and his maniacal plan to take over the Earth, things really go awry. The team finds their friendship and their fighting spirit failing, putting the very fate of the Teen Titans themselves on the line!
Official Site
Trailer
---
The Equalizer 2
R
for brutal violence throughout, language, and some drug content


Denzel Washington, Pedro Pascal

-

2 hr. 0 mins.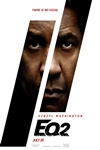 Denzel Washington returns to one of his signature roles in the first sequel of his career. Robert McCall serves an unflinching justice for the exploited and oppressed - but how far will he go when that is someone he loves?
Official Site
Trailer
---
Mamma Mia! Here We Go Again
PG-13
for some suggestive material


Meryl Streep, Julie Walters

-

1 hr. 54 mins.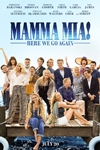 Ten years after Mamma Mia! The Movie, you are invited to return to the magical Greek island of Kalokairi in an all-new original musical based on the songs of ABBA. With the film's original cast returning and new additions including Lily James (Cinderella, Baby Driver). As the film goes back and forth in time to show how relationships forged in the past resonate in the present, James will play the role of Young Donna.
Official Site
Trailer
---
Hotel Transylvania 3: Summer Vacation
PG
for some action and rude humor


Adam Sandler, Selena Gomez

-

1 hr. 37 mins.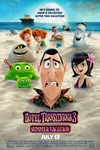 In Sony Pictures Animation's Hotel Transylvania 3, Mavis surprises Dracula with a family voyage on a luxury monster cruise ship so he can take a summer vacation from providing everyone else's vacation at the hotel, and the rest of Drac's Pack cannot resist tagging along. The monsters are all having a great time, indulging in all of the shipboard fun the cruise has to offer, from monster volleyball to colossus sized buffets and exotic excursions, but then the unexpected happens as Drac falls for the intriguing-yet-dangerous captain of the ship. Balancing family, friends, and a budding romance might just be too much, even for the most powerful vampire.
Official Site
Trailer
---
Skyscraper
PG-13
for sequences of gun violence and action, and for brief strong language


Dwayne Johnson, Neve Campbell

-

1 hr. 43 mins.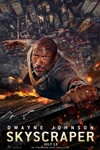 Global icon Dwayne Johnson leads the cast of Legendary's SKYSCRAPER as former FBI Hostage Rescue Team leader and U.S. war veteran Will Ford, who now assesses security for skyscrapers. On assignment in China he finds the tallest, safest building in the world suddenly ablaze, and he's been framed for it. A wanted man on the run, Will must find those responsible, clear his name and somehow rescue his family who is trapped inside the building...above the fire line.
Official Site
Trailer
---
Uncle Drew
PG-13
for suggestive material, language and brief nudity


Kyrie Irving, Lil Rel Howery

-

1 hr. 43 mins.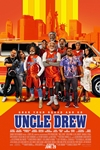 After draining his life savings to enter a team in the Rucker Classic street ball tournament in Harlem, Dax (LilRel Howery) is dealt a series of unfortunate setbacks, including losing his team to his longtime rival (Nick Kroll). Desperate to win the tournament and the cash prize, Dax stumbles upon the man, the myth, the legend Uncle Drew (NBA All-Star Kyrie Irving) and convinces him to return to the court one more time. The two men embark on a road trip to round up Drew's old basketball squad (Shaquille O'Neal, Chris Webber, Reggie Miller, Nate Robinson, and Lisa Leslie) and prove that a group of septuagenarians can still win the big one.
Official Site
Trailer
---
Jurassic World: Fallen Kingdom
PG-13
for intense sequences of science-fiction violence and peril


Chris Pratt, Bryce Dallas Howard

-

2 hr. 8 mins.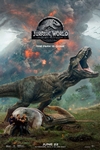 It's been three years since theme park and luxury resort Jurassic World was destroyed by dinosaurs out of containment. Isla Nublar now sits abandoned by humans while the surviving dinosaurs fend for themselves in the jungles.
When the island's dormant volcano begins roaring to life, Owen (Chris Pratt) and Claire (Bryce Dallas Howard) mount a campaign to rescue the remaining dinosaurs from this extinction-level event. Owen is driven to find Blue, his lead raptor who's still missing in the wild, and Claire has grown a respect for these creatures she now makes her mission. Arriving on the unstable island as lava begins raining down, their expedition uncovers a conspiracy that could return our entire planet to a perilous order not seen since prehistoric times.
Official Site
Trailer
---