I Can Only Imagine
PG
for thematic elements including some violence


Dennis Quaid, Cloris Leachman

-

1 hr. 50 mins.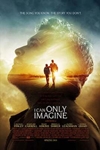 Based on the incredible true-life story that inspired the beloved, chart-topping song, I Can Only Imagine is a song that brings ultimate hope to so many - often in the midst of life's most challenging moments. Amazingly, the song was written in mere minutes by MercyMe lead singer Bart Millard. In reality, those lyrics took a lifetime to craft.
Official Site
Trailer
---
Love, Simon
PG-13
for thematic elements, sexual references, language and teen partying


Nick Robinson, Katherine Langford

-

1 hr. 50 mins.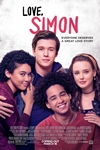 Everyone deserves a great love story. But for seventeen-year old Simon Spier it's a little more complicated: he's yet to tell his family or friends he's gay and he doesn't actually know the identity of the anonymous classmate he's fallen for online. Resolving both issues proves hilarious, terrifying and life-changing. Directed by Greg Berlanti (Riverdale, The Flash, Supergirl), written by Isaac Aptaker & Elizabeth Berger (This is Us), and based on Becky Albertalli's acclaimed novel, LOVE, SIMON is a funny and heartfelt coming-of-age story about the thrilling ride of finding yourself and falling in love.
Official Site
Trailer
---
Tomb Raider
PG-13
for sequences of violence and action, and for some language


Alicia Vikander, Dominic West

-

1 hr. 58 mins.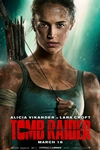 Lara Croft is the fiercely independent daughter of an eccentric adventurer who vanished when she was scarcely a teen. Now a young woman of 21 without any real focus or purpose, Lara navigates the chaotic streets of trendy East London as a bike courier. Determined to forge her own path, she refuses to take the reins of her father's global empire just as staunchly as she rejects the idea that he's truly gone. Going explicitly against his final wishes, she leaves everything behind in search of her dad's last-known destination: a fabled tomb on a mythical island that might be somewhere off the coast of Japan. Suddenly, the stakes couldn't be higher for Lara must learn to push herself beyond her limits as she journeys into the unknown.
Official Site
Trailer
---
Gringo
R
for language throughout, violence and sexual content


David Oyelowo, Joel Edgerton

-

1 hr. 50 mins.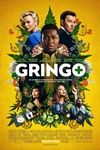 The story follows mild-mannered businessman Harold Soyinka (Oyelowo), who has a new wife and a stake in a pharmaceutical company about to go public. He seemingly has the American Dream in his grasp - until everything goes wrong. Stranded south of the border, with a price on his head, Harold discovers that the life he had never really existed in the first place.
Official Site
Trailer
---
The Hurricane Heist
PG-13
for sequences of gun violence, action, destruction, language and some suggestive material


Toby Kebbell, Maggie Grace

-

1 hr. 40 mins.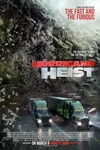 A crew of thieves plans the ultimate heist, to steal $600 million from the U.S. treasury facility located on the Gulf Coast of Alabama using a hurricane as their cover. When the storm blows up into a lethal CATEGORY 5 and their well-made plans go awry, they find themselves needing a vault code known only by one female Treasury Agent, a need that turns murderous. But the Treasury agent has picked up an unlikely ally, a meteorologist terrified of hurricanes but determined to save his estranged brother kidnapped by the thieves. He uses his knowledge of the storm as a weapon to defeat the bad guys in this non-stop action/thriller.
Official Site
Trailer
---
The Strangers: Prey at Night
R
for horror violence and terror throughout, and for language


Christina Hendricks, Martin Henderson

-

1 hr. 25 mins.
A family's road trip takes a dangerous turn when they arrive at a secluded mobile home park to stay with some relatives and find it mysteriously deserted. Under the cover of darkness, three masked psychopaths pay them a visit to test the family's every limit as they struggle to survive.
Official Site
Trailer
---
A Wrinkle in Time
PG
for thematic elements and some peril


Oprah Winfrey, Reese Witherspoon

-

1 hr. 49 mins.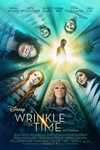 Meg Murry is a typical middle school student struggling with issues of self-worth who just wants to fit in. The daughter of two world-renowned physicists, she is intelligent and uniquely gifted, as is Meg's younger brother, Charles Wallace, but she has yet to realize it for herself. Complicating matters is the mysterious disappearance of Mr. Murry, which has left Meg devastated and her mother broken-hearted. Charles Wallace introduces Meg and her fellow classmate Calvin to three celestial beings (Mrs. Which, Mrs. Whatsit and Mrs. Who) who have journeyed to Earth to help search for their father, and together they embark on their formidable quest. Travelling via a wrinkling of time and space known as tessering, they are transported to worlds beyond their imagination where they must confront a powerful evil force. To make it back home to Earth, Meg must face the darkness within herself in order to harness the strength necessary to defeat the darkness rapidly enveloping the Universe.
Official Site
Trailer
---
Death Wish
R
for strong bloody violence, and language throughout


Bruce Willis, Vincent D'Onofrio

-

1 hr. 48 mins.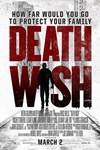 Paul Kersey becomes a divided person: A man who saves lives, and a man who takes them; a husband and father trying to take care of his family, and a shadowy figure fighting Chicago crime; a surgeon extracting bullets from suspects' bodies, and the vigilante called "The Grim Reaper" who detectives are quickly closing in on.
Official Site
Trailer
---
Red Sparrow
R
for strong violence, torture, sexual content, language and some graphic nudity


Jenifer Lawrence, Joel Edgerton

-

2 hr. 20 mins.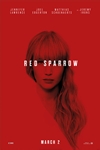 Dominika Egorova is many things. A devoted daughter determined to protect her mother at all costs. A prima ballerina whose ferocity has pushed her body and mind to the absolute limit. A master of seductive and manipulative combat. When she suffers a career-ending injury, Dominika and her mother are facing a bleak and uncertain future. That is why she finds herself manipulated into becoming the newest recruit for Sparrow School, a secret intelligence service that trains exceptional young people like her to use their bodies and minds as weapons. After enduring the perverse and sadistic training process, she emerges as the most dangerous Sparrow the program has ever produced. Dominika must now reconcile the person she was with the power she now commands, with her own life and everyone she cares about at risk, including an American CIA agent who tries to convince her he is the only person she can trust.
Official Site
Trailer
---
Every Day
PG-13
for thematic content, language, teen drinking, and suggestive material


Owen Teague, Angourie Rice

-

1 hr. 35 mins.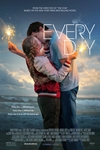 Based on David Levithan's acclaimed New York Times bestseller, Every Day tells the story of Rhiannon (Angourie Rice), a 16-year old girl who falls in love with a mysterious soul named "A" who inhabits a different body every day. Feeling an unmatched connection, Rhiannon and A work each day to find each other, not knowing what or who the next day will bring. The more the two fall in love, the more the realities of loving someone who is a different person every 24 hours takes a toll, leaving Rhiannon and A to face the hardest decision either has ever had to make.
Official Site
Trailer
---
Game Night
R
for language, sexual references and some violence


Jason Bateman, Rachel McAdams

-

1 hr. 40 mins.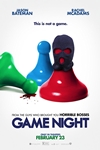 Bateman and McAdams star as Max and Annie, whose weekly couples game night gets kicked up a notch when Max's charismatic brother, Brooks (Chandler), arranges a murder mystery party, complete with fake thugs and faux federal agents. So when Brooks gets kidnapped, it's all part of the game - right? But as the six uber-competitive gamers set out to solve the case and win, they begin to discover that neither this game - nor Brooks - are what they seem to be. Over the course of one chaotic night, the friends find themselves increasingly in over their heads as each twist leads to another unexpected turn. With no rules, no points, and no idea who all the players are, this could turn out to be the most fun they've ever had... or game over.
Official Site
Trailer
---
Black Panther
PG-13
for prolonged sequences of action violence, and a brief rude gesture


Chadwick Boseman, Lupita Nyong'o

-

2 hr. 14 mins.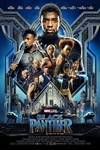 "Black Panther" follows T'Challa who, after the events of "Captain America: Civil War," returns home to the isolated, technologically advanced African nation of Wakanda to take his place as King. However, when an old enemy reappears on the radar, T'Challa's mettle as King and Black Panther is tested when he is drawn into a conflict that puts the entire fate of Wakanda and the world at risk.
Official Site
Trailer
---
Fifty Shades Freed
R
for strong sexual content, nudity, and language


Dakota Johnson, Jamie Dornan

-

1 hr. 45 mins.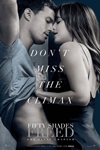 Believing they have left behind shadowy figures from their past, newlyweds Christian and Ana fully embrace an inextricable connection and shared life of luxury. But just as she steps into her role as Mrs. Grey and he relaxes into an unfamiliar territory, new threats could jeopardize their happy ending before it begins.
Official Site
Trailer
---
Peter Rabbit
PG
for some rude humor and action


James Corden, Rose Byrne

-

1 hr. 34 mins.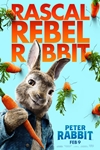 Peter Rabbit, the mischievous and adventurous hero who has captivated generations of readers, now takes on the starring role of his own irreverent, contemporary comedy with attitude. In the film, Peter's feud with Mr. McGregor (Domhnall Gleeson) escalates to greater heights than ever before as they rival for the affections of the warm-hearted animal lover who lives next door (Rose Byrne). James Corden voices the character of Peter with playful spirit and wild charm, with Margot Robbie, Elizabeth Debicki, and Daisy Ridley performing the voice roles of the triplets, Flopsy, Mopsy, and Cottontail.
Official Site
Trailer
---
Winchester
PG-13
for violence, disturbing images, drug content, some sexual material and thematic elements


Helen Mirren, Jason Clarke

-

1 hr. 39 mins.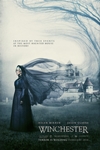 Inspired by true events. On an isolated stretch of land 50 miles outside of San Francisco sits the most haunted house in the world. Built by Sarah Winchester (Academy Award®-winner Helen Mirren), heiress to the Winchester fortune, it is a house that knows no end. Constructed in an incessant twenty-four hour a day, seven day a week mania for decades, it stands seven stories tall and contains hundreds of rooms. To the outsider it looks like a monstrous monument to a disturbed woman's madness. But Sarah is not building for herself, for her niece (Sarah Snook) or for the brilliant Doctor Eric Price (Jason Clarke) whom she has summoned to the house. She is building a prison, an asylum for hundreds of vengeful ghosts, and the most terrifying among them have a score to settle with the Winchesters.
Official Site
Trailer
---
Maze Runner: The Death Cure
PG-13
for intense sequences of sci-fi violence and action, language, and some thematic elements


Dylan O'Brien, Kaya Scodelario

-

2 hr. 21 mins.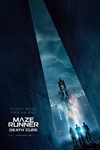 In the epic finale to the Maze Runner saga, Thomas leads his group of escaped Gladers on their final and most dangerous mission yet. To save their friends, they must break into the legendary Last City, a WCKD-controlled labyrinth that may turn out to be the deadliest maze of all. Anyone who makes it out alive will get answers to the questions the Gladers have been asking since they first arrived in the maze.
Official Site
Trailer
---
Forever My Girl
PG
for thematic elements including drinking, and for language


Alex Roe, Judith Hoag

-

1 hr. 43 mins.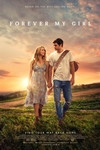 Forever My Girl tells the story of country music super-star Liam Page (Alex Roe) who left his bride, Josie (Jessica Rothe), at the altar choosing fame and fortune instead. However, Liam never got over Josie, his one true love, nor did he ever forget his Southern roots in the small community where he was born and raised. When he unexpectedly returns to his hometown for the funeral of his high school best friend, Liam is suddenly faced with the consequences of all that he left behind.
Official Site
Trailer
---
Paddington 2
PG
for some action and mild rude humor


Hugh Grant, Brendan Gleeson

-

1 hr. 43 mins.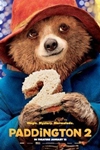 Following the worldwide hit "Paddington," one of the most successful family films of all time, this much-anticipated sequel finds Paddington (Ben Whishaw) happily settled with the Brown family in London, where he has become a popular member of the local community, spreading joy and marmalade wherever he goes. While searching for the perfect present for his beloved Aunt Lucy's hundredth birthday, Paddington sees a unique pop-up book in Mr. Gruber's antique shop, and embarks upon a series of odd jobs to buy it. But when the book is stolen, it's up to Paddington and the Browns to unmask the thief.
Official Site
Trailer
---
The Post
PG-13
for language and brief war violence


Tom Hanks, Meryl Streep

-

1 hr. 56 mins.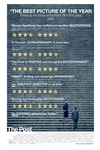 Steven Spielberg directs Meryl Streep and Tom Hanks in The Post, a thrilling drama about the unlikely partnership between The Washington Post's Katharine Graham (Streep), the first female publisher of a major American newspaper, and editor Ben Bradlee (Hanks), as they race to catch up with The New York Times to expose a massive cover-up of government secrets that spanned three decades and four U.S. Presidents. The two must overcome their differences as they risk their careers - and their very freedom - to help bring long-buried truths to light.
Official Site
Trailer
---
The Greatest Showman
PG
for thematic elements including a brawl


Hugh Jackman, Zac Efron

-

1 hr. 45 mins.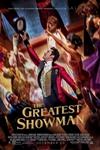 "The Greatest Showman" is a bold and original musical that celebrates the birth of show business and the sense of wonder we feel when dreams come to life. Inspired by the ambition and imagination of P.T. Barnum, The Greatest Showman tells the story of a visionary who rose from nothing to create a mesmerizing spectacle that became a worldwide sensation.
Official Site
Trailer
---
Jumanji: Welcome to the Jungle
PG-13
for adventure action, suggestive content and some language


Dwayne Johnson, Jack Black

-

1 hr. 58 mins.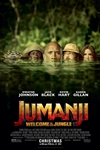 In the brand new adventure Jumanji: Welcome to the Jungle, the tables are turned as four teenagers in detention are sucked into the world of Jumanji. When they discover an old video game console with a game they've never heard of, they are immediately thrust into the game's jungle setting, into the bodies of their avatars, played by Dwayne Johnson, Jack Black, Kevin Hart, and Karen Gillan. What they discover is that you don't just play Jumanji - Jumanji plays you. They'll have to go on the most dangerous adventure of their lives, or they'll be stuck in the game forever...
Official Site
Trailer
---
Ferdinand
PG
for rude humor, action and some thematic elements


John Cena, Kate McKinnon

-

1 hr. 47 mins.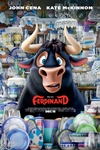 The story of a giant bull with a big heart. After being mistaken for a dangerous beast, he is captured and torn from his home. Determined to return to his family, he rallies a misfit team on the ultimate adventure. Set in Spain, Ferdinand proves you can't judge a bull by its cover.
Official Site
Trailer
---
Star Wars: The Last Jedi
PG-13
for sequences of sci-fi action and violence


Daisy Ridley, John Boyega

-

2 hr. 33 mins.
In Lucasfilm's Star Wars: The Last Jedi, the Skywalker saga continues as the heroes of The Force Awakens join the galactic legends in an epic adventure that unlocks age-old mysteries of the Force and shocking revelations of the past.
Official Site
Trailer
---
The Shape of Water
R
for sexual content, graphic nudity, violence and language


Michael Shannon, Sally Hawkins

-

2 hr. 3 mins.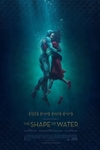 THE SHAPE OF WATER - an other-worldly fairy tale, set against the backdrop of Cold War era America circa 1963. In the hidden high-security government laboratory where she works, lonely Elisa is trapped in a life of silence and isolation. Elisa's life is changed forever when she and co-worker Zelda discover a secret classified experiment.
Official Site
Trailer
---
Coco
PG
for thematic elements


Gael García Bernal, Anthony Gonzalez

-

1 hr. 44 mins.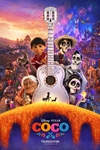 Despite his family's baffling generations-old ban on music, Miguel (voice of newcomer Anthony Gonzalez) dreams of becoming an accomplished musician like his idol, Ernesto de la Cruz (voice of Benjamin Bratt). Desperate to prove his talent, Miguel finds himself in the stunning and colorful Land of the Dead following a mysterious chain of events. Along the way, he meets charming trickster Hector (voice of Gael García Bernal), and together, they set off on an extraordinary journey to unlock the real story behind Miguel's family history.
Official Site
Trailer
---
Wonder
PG
for thematic elements including bullying, and some mild language


Julia Roberts, Jacob Tremblay

-

1 hr. 43 mins.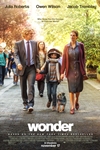 Based on the New York Times bestseller, WONDER tells the inspiring and heartwarming story of August Pullman. Born with facial differences that, up until now, have prevented him from going to a mainstream school, Auggie becomes the most unlikely of heroes when he enters the local fifth grade. As his family, his new classmates, and the larger community all struggle to find their compassion and acceptance, Auggie's extraordinary journey will unite them all and prove you can't blend in when you were born to stand out.
Official Site
Trailer
---
Three Billboards Outside Ebbing, Missouri
R
for violence, language throughout, and some sexual references


Frances McDormand, Woody Harrelson

-

1 hr. 55 mins.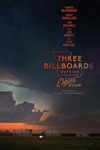 After months have passed without a culprit in her daughter's murder case, Mildred Hayes makes a bold move, painting three signs leading into her town with a controversial message directed at William Willoughby, the town's revered chief of police. When his second-in-command Officer Dixon, an immature mother's boy with a penchant for violence, gets involved, the battle between Mildred and Ebbing's law enforcement is only exacerbated.
Official Site
Trailer
---